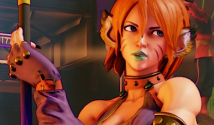 Capcom announced a Breath of Fire II crossover costume for Falke in Street Fighter V: Arcade Edition. Pouncing from 1994 to 2019, Falke's nostalgic "Katt" costume will be available from May 10th to June 7th, 2019 in SFV: Arcade Edition's Extra Battle Mode. Below, take a look at three high-quality screenshots of Falke's BOF2 Katt costume.


Capcom also recently detailed the latest SFV: Arcade Edition updates, online events and DLC costume bundles on the Capcom Unity blog.

Stay tuned on FightersGeneration.com for continued coverage of SFV: Arcade Edition.