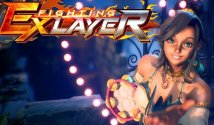 Arika announced Fighting EX Layer will be released for Steam on November 30th, 2018. Arika also uploaded a 36-minute "Vs Mode" video showing the PC version of Fighting EX Layer in motion, in addition to posting their November-December schedule for the game. A playable demo of the arcade version will appear at ARCREVO 2018. The Japanese arcade version will release on Nov. 29th, and a Physical Copy PS4 version will be released in Japan Dec. 6th. The PS4 version will also be updated to version 1.1.1 on Nov. 30th.

Here is the Fighting EX Layer November-December 2018 schedule as posted by Arika.

Fighting EX Layer - Nov./Dec. 2018 Schedule
11/14(JST) Introduce the Release Notice on the Steam Store.
11/23-24(JST) Showcase a playable demo of the Arcade Version at ARCREVO Japan 2018 venue.
11/29(JST) Begin the release of the Arcade Version (1.1.1).
*The North American release is still not confirmed.
11/30(JST) From 10:00AM, begin the release of the Steam Version (1.1.1).
11/30(JST) Until 5:00PM, perform a Version Update (1.1.1) on the PS4 Version.
12/6(JST) Begin selling the Physical Copy (Japanese Version Only)
12/14(JST) FIGHTING EX LAYER 2019 Schedule

Just to point out the last bullet point, it looks like we'll be hearing about Fighting EX Layer updates into 2019 from Arika starting on December 14th. (Perhaps this is when we'll find out when Terry Bogard and Sharon will be joining the game.)

Last but not least, Fighting EX Layer on PC will be discounted by 25% during its launch week, priced at $29.99 instead of $39.99!

Stay tuned on FightersGeneration.com for continued coverage of Fighting EX Layer.