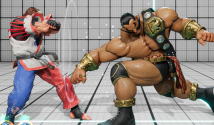 Today, Arika Nishitani / NIN from Arika dropped some big news regarding the spiritual successor to the Street Fighter EX series and Fighting Layer. Arika's "mysterious fighting game" finally has an official name: Fighting EX Layer. Arika talked with Playstation.blog about the upcoming title, and confirmed that the Playstation 4 beta test will begin on December 11th, 2017. The online beta will run for 2 weeks and features 6 playable characters: Kairi, Garuda, Skullomania, Darun Mister, Allen Snider, and Shirase. Arika's goal in the beta is to test network match function and hope to retrieve plenty of player feedback.


In today's Playstation.blog entry, Arika Nishitani talks about the game's "Gougi system" which is said to be a "a very deep and exciting addition to the game". The Gougi system's design aims to change the flow of matches, enable players to have different ways to play depending on their Gougi. The Gougi system will enable characters to obtain various power-ups and unique abilities. More details coming soon. Until then, enjoy some new HD screenshots below.


The beta test for Fighting EX Layer will begin immediately after PlayStation Experience (Dec. 9th-10th), where a live demo will also be playable. The beta will run for 2 weeks and requires a Playstation Plus subscription to join.

[UPDATE] To help get you prepared, check out a new(ish) gameplay video below featuring pro Street Fighter players, Fudo and Nemo. The video shows some early Allen Snider gameplay plus some Gougi abilities in action - such as "Ghost".


Stay tuned on FightersGeneration.com for full coverage of Fighting EX Layer!