Thursday, June 2nd, 2016

Early SFV Prototype Screenshot, Concept Art, & Interview With Producer Koichi Sugiyama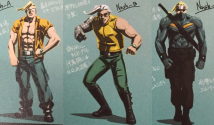 Some interesting early concept images from the official Japanese SFV artbook have surfaced online. Included are early character concept art, plus a prototype screenshot of what SFV might've looked like under a different art direction. In fact, Capcom's Koichi Sugiyama recently told Game Spark that an early build of SFV featured "photo-realistic graphics". Sugiyama further explained the design process behind SFV's visuals... scroll down for the full interview!


Big thanks to @Itsumobasho for posting these images on Twitter. If we come across higher quality versions of these artworks, we'll update this article (and update respective TFG character profiles, of course).



And below is the interview with SFV producer, Koichi Sugiyama. Thanks to Eventhubs for the English translation from Japanese.

Game Spark: To kick things off, please briefly introduce yourself.

Koichi Sugiyama: Hi, my name is Koichi Sugiyama, and I'm the Producer for Street Fighter 5 at Capcom. What that actually means is that, for the most part I'm in charge of promotions and operations for the title, and that includes taking care of the project's financials.

Although the actual Street Fighter 5 creative work is overseen mostly by the game's director, as I do need to know everything about the game for promotional and operational purposes, I'm nonetheless quite well-versed on the subject.

Game Spark: When were you first involved with the Street Fighter series?

Koichi Sugiyama: Previously I was also Producer on Ultra Street Fighter 4 [and that's about it]. This is fairly rare, I think, but prior to being involved with Ultra Street Fighter 4's production, I was actually someone on the management side of the company, handling administrative and enterprise projects.

Game Spark: When did Street Fighter 5's development first begin?

Koichi Sugiyama: The actual development work first began in the summer of 2013. But the idea for Street Fighter 5 itself, however, was something we've been kicking around since 2011. At the time we thought that we should work on an Ultra Street Fighter 4 first, as it would allow us to foster a much stronger Street Fighter community that would lead into SF5.

Game Spark: Since there was an 8-year gap between the development of Street Fighter 4 and 5, were there any difficulties you faced in making the sequel?

Koichi Sugiyama: Well, we really had to work very hard on the game's visuals.

Up until SF3, the series had been rendered in dot-matrix pixel sprites. But for SF4, the graphics were all done with 3D models, and so we had to go through many phases of trial and error in order to nail the same sort of visual impact that the series is known for.

For SF5, as this time around we were working with Unreal Engine 4, which is known for being particularly good at rendering photorealistic visuals, we had to work really hard to try and recreate that same anime-esque look for the game -- so once again we did a lot of experiments, before finally settling on adding "oil painting-esque touches".

In fact, in the very early stages of development, we actually put together a build of SF5 that was rendered in photorealistic graphics. But when we did, we realized that it just wouldn't be Street Fighter without the bold, anime-esque look and feel to the game, so we decided to shelve the whole photorealism idea altogether.

Game Spark: Street Fighter 5 with photorealistic visuals? I'd love to see that.

Koichi Sugiyama: Actually, you can. In the booklet that comes with Street Fighter 5 if you ordered from the e-Capcom store, you can see a single screenshot of that photorealistic build we were running at the time. At this point in time, Ryu had just gotten back from training in seclusion in the mountains, so he's grown a beard and is covered with all these cuts and bruises. The idea to make a "Hot Ryu" battle costume came from this photo-realistic build of SF5.
Game Spark:
Another unique visual aspect in SF5 is the "fluid trails" visual effects (that appears during the V-Trigger activation animation). What was the process that led to the visual effect's inclusion?
Koichi Sugiyama:
In Street Fighter X Tekken, we had this "water" effects motif. In Street Fighter 4, it was "ink". So when we began making Street Fighter 5, we thought about what sort of motif we could replace this with.
We tried various different effects, such as "powder" or "light". But everything we tried either made things too difficult to see, or too plain, so we couldn't really find something apt. At this point, we began examining why we even wanted to implement these visual effects in the first place.
And the result was that, we realized that we wanted to, for instance, have these rainbow effects appear in Rainbow Mika's case.
We realized that we wanted to bring out the characters' individual image colors and use it as a representation of each fighter's unique aura. That led us to settle on the "fluid trails" visual effect. By the way, since the effects are a representation of the characters' aura, even if you pick a different costume color, the fluid trails do not change colors.

Game Spark: Was it decided from the very beginning that Street Fighter 5 would be developed using the Unreal Engine 4?

Koichi Sugiyama: No, we were considering a number of different engines at the time. As the Unreal Engine 4 was also still under development at the time, and their team was looking for help on extending the engine's possibilities, we ended up forming a tag-team with Epic Games to help one another out.

(Thanks to Eventhubs for the translation)
Sources: CFN Portal, Eventhubs, Translations by MajinTenshinhan
Related News: (3-23-2016): SFV Producer Interview / March Update,
(2-22-2016): SFV Ken Masters Pop Culture Shock Statue,
(2-15-2016): TFG Presents: SFV Necalli "Beast of Divinity" Combo Video,
(2-10-2016): New Japanese SFV Trailer Teases Glimpse of Alex,
(2-8-2016): SFV CG Movie Includes Epic Throwback to SFA2,
(1-30-2016): Street Fighter V Game Modes Trailer,
(1-29-2016): SFV Director's Edition Colors Preview Video,
(1-23-2016): SFV Cinematic Trailer, Bengus Story Art, Final Beta,
(1-23-2016): SFV North America Special Edition Breakdown,
(1-21-2016): Sony Reveals 4 Limited Edition PS4's For Japan
Related TFG Links: SFV, Ryu, Charlie Nash, Birdie, Chun-Li, Karin | TFG NEWS

✔ FOLLOW FIGHTERSGEN ON: