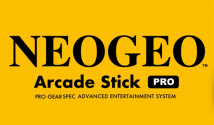 SNK just announced (teased) their latest piece of hardware, the "NEOGEO Arcade Stick Pro". Curiously, SNK didn't specify any details regarding this mysterious new product based on the classic NEOGEO CD stick controller. As a "continuation off of the NEOGEO Mini," the NEOGEO Arcade Stick Pro 'Pro Gear Spec Advanced Entertainment System' possibly features built-in games of its own - or can be used with NEOGEO Mini / other systems. However, it's all speculation as to what this hardware actually does until SNK reveals more. Previously, SNK did say they are working on new NEOGEO platforms evolving from NEOGEO Mini, leading us to believe there's more to this "controller" than meets the eye. Take a look at the official teaser image, below.


[UPDATE] See TFG's new article for full details on the NEO GEO Arcade Stick Pro!

Notice the underside of the stick appears to have 2 additional controller ports and a headphone jack, suggesting its functionality with NEOGEO Mini consoles. Additional compatibility with other systems has not yet been confirmed... but it would be pretty cool if this fightstick could also connect to a PlayStation 4, PC, XB1, and/or Nintendo Switch.


In related news, yesterday, SNK announced the SNK World Championship official pro circuit which will host qualifying events for Samurai Shodown (2019) and The King of Fighters 14. Official tournaments will be held worldwide with players competing for over 10 million yen (about $95,000 USD). The winners of the qualifier tournaments in each region will earn the invitations to the final tournament on March 2020 in Japan.


Stay tuned on FightersGeneration.com for upcoming SNK news and announcements!