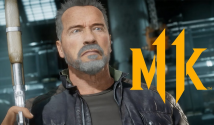 The time has come for the world to see Arnold Schwarzenegger... in a fighting game. Well, Mortal Kombat 11's T-800 Terminator isn't actually voiced by Arnold himself, but the doppelganger who does Arnold's voice in the game sounds pretty much, mostly like him. This morning, NetherRealm Studios unveiled Terminator T-800's full gameplay reveal trailer, check it out below! T-800's moveset is full of shotguns, teleports, headbutts, and traditional ass-kicking you'd expect from The Terminator.


[UPDATE] Below is the Kombat Kast stream archive which features a gameplay breakdown of The Terminator. Some of Terminator's visual customizations are also shown.

Stay tuned on FightersGeneration.com for Mortal Kombat 11 news.