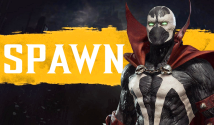 It is confirmed that Spawn is indeed going to look like Spawn in Mortal Kombat 11. (The same can't really be said about MK11's "millennial-aged" Joker, but that's another story for another time.)

The menacing anti-hero from the mind of Todd McFarlane will make his playable MK11 appearance on March 17th, 2020 as the final character in the game's first Kombat Pack. NetherRealm Studios and Ed Boon shared this official image of Spawn (below), giving us a good idea of how Spawn will look in the game. As you probably know, this isn't Spawn's first time in a fighting game - as he originally appeared in the Xbox version of Soul Calibur II (2003).


In related news, it's been confirmed that The Terminator in MK11 will not be voiced by Arnold Schwarzenegger - (unlike TWD's Negan actually having Jeffrey Dean Morgan's voice in TEKKEN 7).

Once again, below is the official MK11 trailer and images for the full Kombat Pack roster.


Stay tuned on Fighters Generation for Mortal Kombat 11 news.