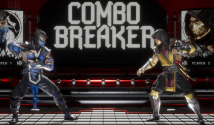 NetherRealm Studios is looking to induce more hype for Mortal Kombat 11's competitive scene with a customized stage featuring (rather large) logos for upcoming major fighting game events: Combo Breaker 2019 (this weekend May 24-26), CEO 2019 (June 28-30), and EVO 2019 (Aug. 2-4). With MK11's "Arcade" stage getting the eSports makeover treatment, the finals at these events (of course) will be played on this stage. Enjoy some high-res screenshots and gameplay video below!


As you can see from the screens, the stages feature unique colors and lighting effects for each event (and other unique background details)!

Below is some gameplay footage from Dynasty on YouTube.


Stay tuned on FightersGeneration.com for Mortal Kombat 11 news.