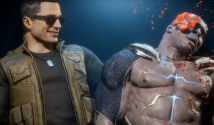 In the recent past, NetherRealm fighting games have been known (and criticized) for including elaborate yet confusing Gear / Customize systems forcing players to put in hours and hours grinding (or enticed to purchase DLC instead)... which is where those dreaded microtransactions come in. In Mortal Kombat 11's case, details about these microtransactions were well-hidden up until the game's launch last week, and many fighting game players are not exactly happy with this system now that they've discovered it.



Here's the full rundown: MK11's "Premium Shop" allows players to purchase cosmetic items such as character skins, intros, and taunts. Purchasing these items requires "Time Krystals" - an in-game currency that can be obtained in very small quantities within various gameplay modes.

Time Krystals can also be purchased for real money at a rate of $1.00 per 100 Time Krystals. Currently, one new character skin costs $5.00... while a new character intro will set players back $7.50.

The main flaw of Mortal Kombat 11's microtransaction system is that it's built very similarly to a mobile phone game... it's designed to motivate users to spend real money.

With each MK11 character having around 90 different gear pieces - if a user wanted to pay to unlock all of the skins for their favorite fighter, this would cost somewhere in the ballpark of $300. However, only 5 cosmetic items are available for purchase at a time, and are rotated every 6 to 8 hours. This system is purposely built to make it difficult for players to get the customizations they want.

Inside Gaming recently put together an entertaining video on the topic.


In my opinion... the necessary grinding and "randomness" of MK11's Premium Shop items being unlocked is not a friendly practice - definitely not designed for the benefit of fighting game players.

One could make the point that microtransactions being related to "cosmetic items" doesn't affect the enjoyment of the game... but that would be wrong. Most MK11 players actually play other games and might not want to dedicate 100's of hours of grinding in one game. Other popular FGs such as TEKKEN 7 and Soul Calibur 6 feature "100% free" Color Edit / Customization systems - which are ultra user-friendly and make it easy to have characters look exactly how they want. With the current design of MK11's unlock system, users are enticed to continue spending real money to obtain specific colors or costume parts that they want.

Ed Boon recently mentioned that a "vast majority" of skins will not be made available through the Premium Shop, and stated NRS is working on a "fix" to the game's current unlock system (but have avoided talking about or even acknowledging key issues with microtransactions). However... Today, a patch was released on the PS4 version which increases Koin rewards in several gameplay modes. You can read the full patch notes over on Reddit.

[UPDATE] The patch has now been released on PS4, PC, and Xbox One. On Twitter, Ed Boon said the Switch version patch will be released Friday, May 10th or the following week.