Thursday, April 27th, 2017

TEKKEN 7 Console Version Modes / Story Trailer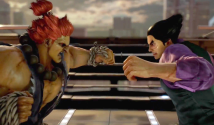 Early this morning, Bandai Namco Japan dropped a brand new TEKKEN 7 trailer for the upcoming console versions! Using all new gameplay footage, the trailer begins by recapping T7's gameplay mechanics and then quickly moves to the new console version features. All new Story Mode cinematics that flow right into gameplay are shown - one scene even confirms a playable "Mishimas versus Jack-4s at Honmaru" (straight from TEKKEN 5's intro).

Customization mode and PS4 exclusive features are also shown in motion for the first time. Enjoy the full 5-minute trailer below and continue reading for the latest confirmed details!


✔ CONFIRMED MODES / NEW DETAILS:

Gallery Mode - Lets you watch classic intros & endings from past TEKKEN games, animated movies from Japan-only TEKKEN Pachinko / Pachislot titles, and view special illustrations.


TEKKEN Jukebox (PS4 Exclusive) - It appears it will have the same function and features of "TEKKEN Tunes" from TTT2, allowing you to choose the music for each stage (and stage variations between rounds).


Main Story / Mishima Saga - The trailer shows the "Mishima Saga" chapter select menu. We can see that the Mishima Saga contains more than 11 chapters... possibly up to 18 chapters! Story Mode also has "Story Assist" controls which helps beginner players perform special moves and combos easily.


Character Story Episodes - Outside of the main Mishima Saga, there will be character specific episodes (Nina's and King's are shown in the trailer). These will contain their own cinematics-into-gameplay sequences and develop each fighters' TEKKEN 7 storyline. The menu design suggests there are at least 28 character episodes.


Treasure Battle - This mode allows players to fight and win various customization items and fight money. It's currently unknown whether it's 1-player only or 2-player as well. "Turbo" Battle might be a random occurrence in this mode.


Mokujin Rush-Style "Turbo" Battle - Near the end of the trailer, Jin Kazama (wearing a cool red headband) does a normally impossible combo at a fast-paced speed. This appears to be similar to Mokujin Rush mode from TEKKEN Revolution.


Customization Mode Menu - The trailer shows off the console version's in-game Customization Mode for the first time. As expected, there are more options and sub-menus available over past installments. BULLET CLUB shirts can also been seen in one of the menus - confirming NJPW content for the console version.


Online Mode - The Online Menu is shown. It includes Ranked Match, Player Match, Tournament and Leaderboards. A new "Warm-Up" Mode also appears next to Ranked Match.


Player Profiles / Life Bar Customization - Like in the arcade version, players can earn various player profile designs and health bar customizations. Several new designs are shown in the trailer.

Katsuhiro Harada said on Twitter that an English version of the trailer will release next week. TEKKEN 7 comes to Playstation 4, Xbox One and Steam on June 2nd, 2017.

Sources: TekkenChannel, Katsuhiro Harada (Twitter)
Related News: (4-12-2017): Ultra High-Res TEKKEN 7 Character Renders Added to TFG Gallery,
(4-6-2017): TEKKEN Comic Issue #1 Jin Kazama Cover, Pre-Orders Open,
(3-25-2017): TEKKEN 7 Character Episode Trailer #1, TV Commercial,
(3-16-2016): TEKKEN 7 Post-Launch Content Outlined, 2 New Guest Characters Incoming,
(3-2-2017): Eddy Gordo TEKKEN 7 Reveal Trailer, New Stages Screenshots,
(2-17-2017): Titan Comics Producing New TEKKEN Comic Series, Full Preview,
(2-6-2017): HORI to Release Official TEKKEN 7 Fightsticks & Fightpad
Related TFG Links: TEKKEN 7, TEKKEN 7: Fated Retribution, TEKKEN Tag Tournament 2 Review

Visit SHOP TFG to check out
awesome and rare fighting
game items for sale on FightersGeneration.com!

*NEW ITEMS ADDED*
MAY 16th, 2017!

✔FOLLOW FIGHTERS GENERATION ON:





.