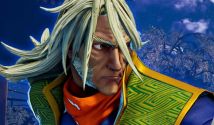 As previous rumors and speculations suggested... Guy's former master, Zeku, will make his fighting game debut as Street Fighter V's final DLC character in Season 2. Capcom released Zeku's reveal trailer early this morning at South East Asia Major 2017. Zeku uses a variety of speedy ninja tricks and raw martial arts techniques, and has the ability to "transform" into his younger self during gameplay. His transformation move curiously has him looking a bit like Strider Hiryu. [UPDATE #1] Zeku's V-Trigger details, official artwork, HD screenshots, and character introduction video were added below.


V-Skill: Fukuro (Older Self), Tenpo Kari (Younger Self) - Zeku performs a special technique that transforms him to his younger self, completely changing his move set. He can then use Tenpo Kari to transform back. Depending on the directional input you press after the V-Skill connects, Zeku will teleport either in front or behind the opponent.

V-Trigger: Bushinryu Shinge Kiko - Allows Zeku to perform a single special dash that can be followed up with a custom combo that deals additional hits. Both forms have the same V-Trigger.

Critical Art: Batsuzan Gaisei - Upon kicking the opponent in the air, Zeku follows up with a flurry of strikes while switching forms before stomping them into the ground. Zekuís Critical Art is the same for both forms.


[UPDATE #2] Check out TFG's newly created Zeku character profile for official storyline details and additional artwork.

Zeku joins SFV's roster on October 24th. Stay tuned on FightersGeneration.com for our continued coverage of Street Fighter V: Arcade Edition.