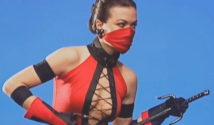 If you were an "arcade kid" in the 90's, you remember the huge impact when a new Mortal Kombat came out. Using digitized graphics and real-life actors, the early Mortal Kombat series was ahead of its time technologically and, of course, boldly pushing the boundaries of censorship with extreme violence and gore. Some rare "behind the scenes" footage of the making of Mortal Kombat 1, MK2, and MK3 has recently surfaced online, showing the original actors in costume performing their iconic moves (with Ed Boon occasionally seen on the sidelines, giving them instructions). Enjoy all 3 videos courtesy of NeoGamer, below. [UPDATE] Added Mortal Kombat 4 behind the scenes video.


In related "news"... earlier this year, rumors about "Mortal Kombat 11" being in development started swirling around online, with certain gaming news outlets and FGC personalities even going so far as to expect a new MK game reveal at E3 2018 (which didn't happen.)

For the most part, these rumors were based on NetherRealm's "release schedule" of past MK and Injustice games... and not much else. (You might've noticed TFG News didn't report on these rumors, because there was actually nothing to report).

Of course, TFG will keep you updated on any credible rumors or information regarding the development of the next Mortal Kombat game / NRS title.