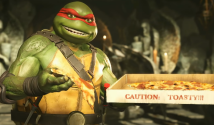 Warner Bros and NetherRealm Studios released the long-awaited Injustice 2 full gameplay trailer for the Teenage Mutant Ninja Turtles DLC. The 4 turtles will function as a single unit, fighting side-by-side in gameplay. However, Leonardo, Donatello, Michelangelo and Raphael will each have their own unique moveset, animations, and dialogue. Each of the turtles can also call upon their brothers for assists and team attacks.


Players who purchased Injustice 2 Ultimate Edition, Ultimate Pack or Fighter Pack #3 can pick up the Teenage Mutant Ninja Turtles DLC on February 13th, 2018. The TMNT DLC will be available to all players for $9.99 on February 20, 2018.

[UPDATE] In related news, NetherRealm Studios posted the official patch notes for Injustice 2's February patch.

Stay tuned on FightersGeneration.com for continued coverage of Injustice 2.