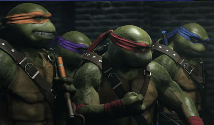 After the conclusion of the Injustice 2 ELEAGUE finals tonight, NetherRealm Studios dropped the reveal trailer for Injustice 2's Fighter Pack #3 DLC. The cinematic trailer begins by confirming DC's Enchantress, joining the previously announced Atom. The third character announcement was quite the shell shock... as the Teenage Mutant Ninja Turtles will indeed be duking it out with DC's best!

It appears the turtles will function as a single character, but gameplay details have yet to be revealed. We'll surely know more when NRS releases the inevitable TMNT gameplay reveal trailer.


In related news, Injustice 2 will finally be coming to PC on November 14th. Stay tuned on FightersGeneration.com for continued coverage of Injustice 2.