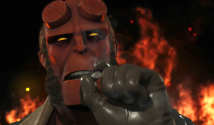 The combatants of Injustice 2's second DLC character pack have been revealed in a new trailer released this morning. Fighter Pack #2 officially includes Aquaman's archenemy, Black Manta; Raiden from Mortal Kombat (in new superhero-esk gear); and Hellboy from... well, Hellboy! Check out the full-length cinematic trailer for Injustice 2's Fighter Pack #2, below. [UPDATE] The end of the trailer states that the "worldwide gameplay reveal for Black Manta" will be on "Sunday, May 27th, 2017 at 4pm". Either someone at NetherRealm Studios is stuck several months in the past, or this is a typo.

I would guess they meant Sunday, August 27th, 2017 at 4pm.


Check out FightersGeneration.com's full review of Injustice 2.