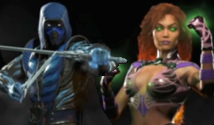 The release of Injustice 2 is less than two weeks out, and NetherRealm Studios has already unveiled a trailer for the first DLC "Fighter Pack" which confirms 3 upcoming DLC characters - Red Hood, Starfire and Mortal Kombat's own Sub-Zero. The 1-minute trailer doesn't show any gameplay, but does briefly show each of the DLC characters. Additionally, 6 other character silhouettes are shown at the end of the trailer... confirming at least 2 more Fighter Packs for Injustice 2.


Below is a snapshot from the trailer showing the 6 additional character silhouettes. One of the silhouettes (on the right) is practically a confirmation that Raiden from Mortal Kombat will join Sub-Zero as a future guest character.


These 3 DLC characters will be included in the Digital Deluxe Edition ($79) of Injustice 2, along with the Ultimate Edition ($99), which will include the 6 additional DLC characters.


Stay tuned on FightersGeneration.com for our continued coverage of Injustice 2.