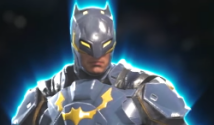 With a slogan that sounds straight out of a fast food chain commercial, Injustice 2's "Your Battles Your Way" trailer gives a glimpse at the in-game "Gear System". Once again, Injustice 2's Gear System is a customization feature allowing players to change up the attire of characters' armor which will also have an effect on their stats and gameplay. Today's new trailer provides the most in-depth look at the Gear System to date!

✔
TFG Webmaster Comment:

Forgive me for being snarky and poking fun at the slogan of this Injustice 2 trailer, but all I could read was "Your Burger Your Way"... or "Your Sandwich Your Way". (Don't eat fast food by the way, it'll kill you.) But it does come with a free Batman toy for the kiddies. Alas, Injustice 2 continues its onslaught in mainstream advertising (now with subliminal messages to attract fast food eaters). And it seems to be working for them.

Forgive me... but posting Injustice 2 articles has become a bit monotonous as of late, as Warner Bros. and NetherRealm have released about 5 new Injustice 2 trailers in the past week, so I've gotta make this fun.

To be serious for a second, Injustice 2's Gear Customization System looks pretty neat - besides all that power-up / stats stuff that casuals are gonna eat up like a free Happy Meal. (Last time I checked, online matches will have an option to turn stats on/off, so that's good.)

However, if "McMicrotransactions" end up being a thing on the menu, I will certainly be poking more fun at Injustice 2 in my eventual review. Thanks for reading... This was fun.


Stay tuned on FightersGeneration.com for continued coverage of Injustice 2.