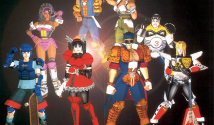 The latest project by the development team behind the Yakuza series is a game called Project Judge. Ryo ga Gotoku Studios have become well-known for packing tons of Sega fan-service into their games. Past Yakuza titles have featured a variety of playable Sega arcade classics within them, including Virtua Fighter 5 in Yakuza 6. A "spin-off" of the Yakuza series, Project Judge will include a playable classic 3D fighting game considered to be a spin-off of the Virtua Fighter series... 1995's Fighting Vipers.


This will be the first time Fighting Vipers is playable on PlayStation 4. In 2012, Fighting Vipers was re-released with a 1080p HD upgrade on PS3 and Xbox 360 (video from that version seen above). Currently, no details are known about the PS4 version within Project Judge, but speculating from past Yakuza titles, it will be a straight-forward arcade port. Below are the latest story and gameplay trailers for Project Judge.


Project Judge is set to release on PlayStation 4 in Japan on December 13th, 2018, followed by a Western release sometime in 2019.