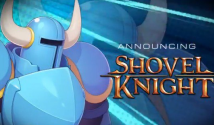 Back to back guest character reveals for Blade Strangers?

Yesterday, Nicalis revealed Isaac from Binding of Isaac was as a new playable character in Blade Strangers. And today, Nicalis confirmed Shovel Knight (from... Shovel Knight) as yet another playable guest character. Check out Shovel Knight's full Blade Strangers gameplay reveal trailer. Additionally, Nicalis uploaded an "extended" version of the game's opening cinematic.


Stay tuned on FightersGeneration.com for more news on Blade Strangers.