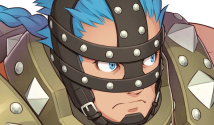 Blade Strangers is an upcoming 2D fighting game developed by Studio Saizensen and produced by Nicalis. The title is set to be released this Summer on PlayStation 4, Nintendo Switch, and Steam. A new gameplay video shows off the game's unique visuals, which use 3D renders for characters and animations that are later touched up by artists to resemble 2D "cel-like" sprites. Along with the new gameplay, Nicalis released the full opening cinematic for Blade Strangers.


Finally, here's 8 brand new screenshots of Blade Strangers.

Stay tuned on FightersGeneration.com for more news on Blade Strangers.