POSTED: Wednesday, October 9th, 2019 (Oct. 19th, 2019)

Samurai Shodown Basara Gameplay Reveal Trailer, Joins Roster October 15th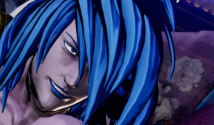 SNK announced October 15th, 2019 as the release date for Samurai Shodown 2019's next DLC character, Basara Kubikiri. Basara's full gameplay reveal trailer (below) previews the SSIII veteran's classic fighting style and demonic special moves. Like nearly all other returning characters, Basara will play very closely to his original "Slash" version from prior games. However, Basara does have his "fake shadow" clone technique from his SS4 "Bust" version. On the same day as Basara's release date, Puzzle & Dragon X Samurai Shodown crossover costumes will also become available. [UPDATE] HD screenshot & Story Mode Playthrough video added.


Samurai Shodown (2019) will be released on Steam & Nintendo Switch this winter.

Stay tuned on FightersGeneration.com for Samurai Shodown news.

Source: snkGame
Related News: (10-8-2019): Samurai Shodown 2019 Character Art for Basara, Kazuki, Wan-Fu,
(10-7-2019): Samurai Shodown X Puzzle & Dragons Costumes Revealed,
(10-1-2019): KOF: All-Star Releases Worldwide on October 22nd,
(9-12-2019): SNK Reveals Tokyo Game Show '19 Swag,
(9-11-2019): Samurai Shodown Shizumaru Reveal Trailer,
(9-10-2019): SNK Reveals Details on the NEOGEO Arcade Stick Pro
Related TFG Links: Samurai Shodown (2019), Basara, Kazuki, Wan-Fu

Visit SHOP TFG to check out
awesome and rare fighting
game items for sale on FightersGeneration.com!

*NEW ITEMS ADDED*
AUG. 12th, 2019!

✔ FOLLOW FIGHTERSGEN ON: