>
The Fighters Generation proudly presents our exclusive "Fighting Game Artist Profiles" feature... a tribute to the legendary 2D artists who have contributed immeasurably to the success of the fighting genre. In the early 1990's, and for decades to come, these incredibly talented illustrators blurred the line between "video game" and "art". Game companies such as Capcom, SNK, Namco, and Arc System Works were able to distinguish themselves and their games thanks to their unique artists & art styles.

Vibrant character illustrations, memorable promotional posters, and beautifully unique collages would define the "image" of the fighting genre... inspiring gamers, game developers, and fellow 2D artists alike. Still to this day, these brilliant artists play a major role in the ever-growing interest, appreciation, and inspiration behind fighting games and their characters.

The artists featured here are credited for creating some of the most impactful and memorable fighting game illustrations of all time (and video games in general). Right here on TFG's feature, you can learn about each artist's background, traits, interesting facts, and enjoy a small sampling of their works! Also be sure to check back on the page periodically, as it is updated often. (Updated: Oct. 5th, 2019)
Shinkiro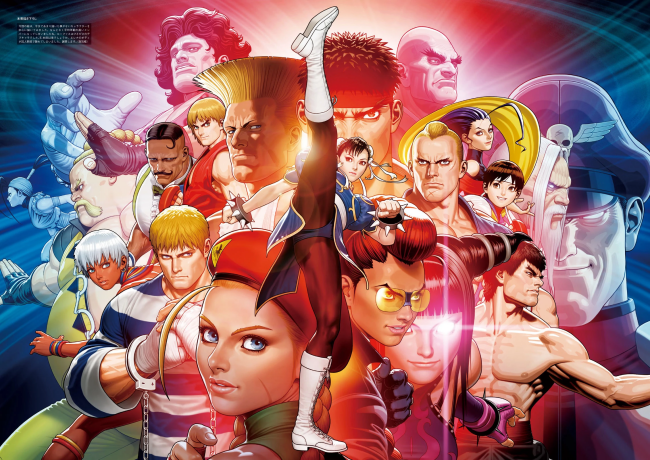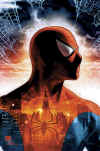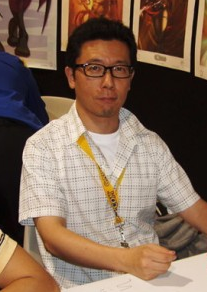 Toshiaki "Shinkiro" Mori was born December 14, 1962. He started working for SNK in the early 90's as an illustrator and conceptual artist. Shinkiro created character designs and many cover illustrations for a wide variety of NeoGeo games, including: Art of Fighting, The King of Fighters 94-2000, Samurai Shodown, Fatal Fury, Metal Slug, Last Blade, etc.

Shinkiro was laid off in the year 2000 due to SNK's bankruptcy and was almost immediately thereafter employed by Capcom! He began doing cover art for a wide variety of Capcom titles, including: Capcom VS SNK series, Tatsunoko Vs. Capcom, Marvel Vs. Capcom 3, Resident Evil: Dead Aim, Dino Stalker, Final Fight One, Super Ghouls 'n Ghosts, Dead Rising, and Devil May Cry 5. Shinkiro has also done cover art for American comics such as Spider-Man Unlimited and UDON's Street Fighter comic series.















Shinkiro's art style is immediately recognizable due to the "realistic" airbrush technique Shinkiro uses when drawing characters. Shinkiro has used this photo-realistic style to create individual character artworks, as well as group posters & collages, while also experimenting with different coloring techniques such as cel-shading. A face drawn by Shinkiro has always been easily recognizable, as he uses the same general format/shape for drawing most male and female characters. However, Shinkiro has demonstrated how dynamic he can be by illustrating amazingly realistic-looking monsters, dragons, effects, and backgrounds with ease.
Akiman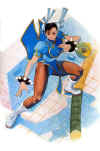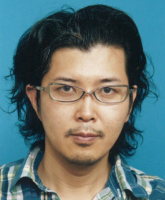 Born July 21, 1964, Akira Yasuda works under the pen name "Akiman" and joined Capcom in 1985. After illustrating characters in 1989's Final Fight, he began working on Street Fighter 2, and soon became one of the most influential fighting game designers ever. Akiman has created iconic characters and artwork for some of Capcom's most well-known games, including: Street Fighter Alpha, Street Fighter 2, Street Fighter III, Final Fight, Warzard, Star Gladiator, Power Stone and Captain Commando.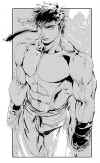 Aside from bringing life to many characters in the fighting genre, Akira was also involved with working on anime such as Gundam and Overman King Gainer. He officially left Capcom in 2003 and started working as a freelance artist. He also appeared in the Initial D live action movie as a Red Suns Member and in Tomie: Rebirth as Waiter.

Akiman also invested heavily in the growth of his successors, making significant contributions to Capcom's graphics and animation patterns. Akiman was responsible for editing Capcom's Street Fighter Anatomy Reference Guide, which was used to teach other Capcom artists since the mid 1990's. He currently works as a freelance illustrator, character and mechanical designer, and as a manga artist. Here's a must-watch mini-documentary about Akira Yasuda, below!

Bengus (AKA CRMK)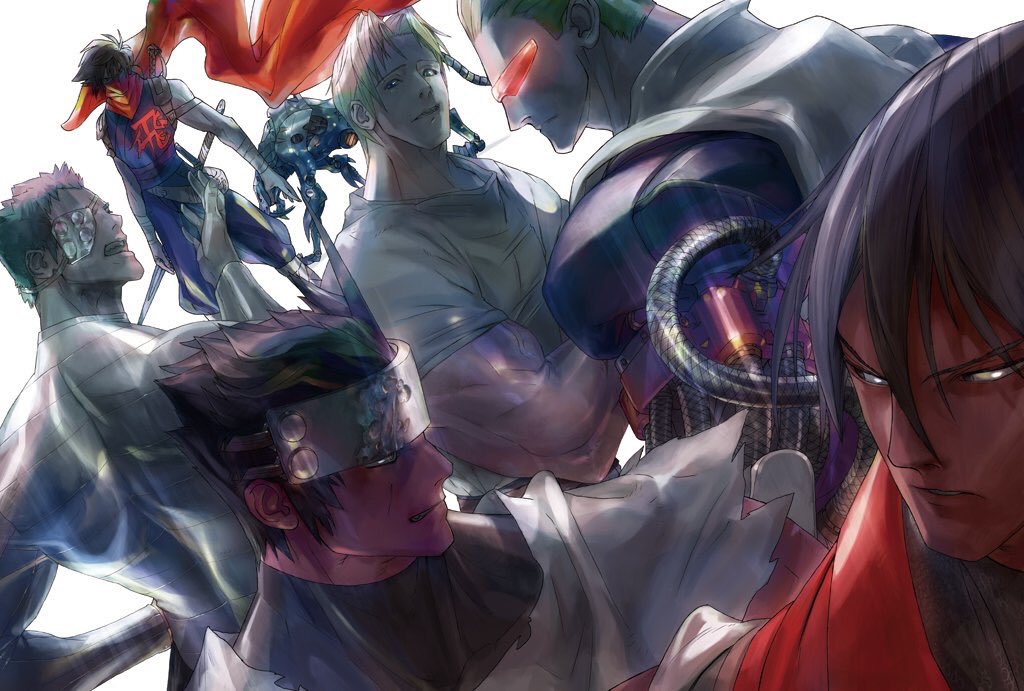 Bengus has worked for Capcom as an illustrator and character designer since the beginning of the Street Fighter series (1987). Bengus played a huge part in designing the original Street Fighter cast, along with the Darkstalkers cast. Bengus's art style quickly became iconic and defined "Capcom style" early on, portraying characters with disproportionately large, defined muscles and big hands & feet. This visual style was a distinguishable aspect in Capcom's most defining fighting games, with the limbs of characters easier to see thanks to the extra large hands and feet. However, Bengus has shown he can also draw in other more " realistic" and "anime" styles.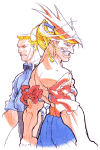 In addition to working on a wide variety of Street Fighter and Darkstalkers titles, Bengus is also known for his work on games such as: Final Fight 3, Alien Vs. Predator, Power Stone, Red Earth, Dungeons & Dragons: Shadow Over Mystara, Star Gladiator / Plasma Sword, X-Men Vs. Street Fighter, MSH Vs. Street Fighter, Marvel Vs. Capcom, Onimusha, Devil May Cry 5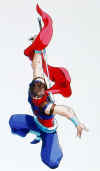 Popular comic book artists such as Joe Maduera, Jeff Matsuda and Humberto Ramos have also borrowed from Bengus' style. Professional illustrators Jason and Heather Martin have stated that Akiman and Bengus are some of their biggest influences. The artists at UDON Comics also model the Street Fighter characters closely to how Bengus drew them in his prime. Bengus is without a doubt a legend and one of the best video game artists of all time. Capcom fighting games simply wouldn't have been such a huge success without the influence of Bengus.
Dai-Chan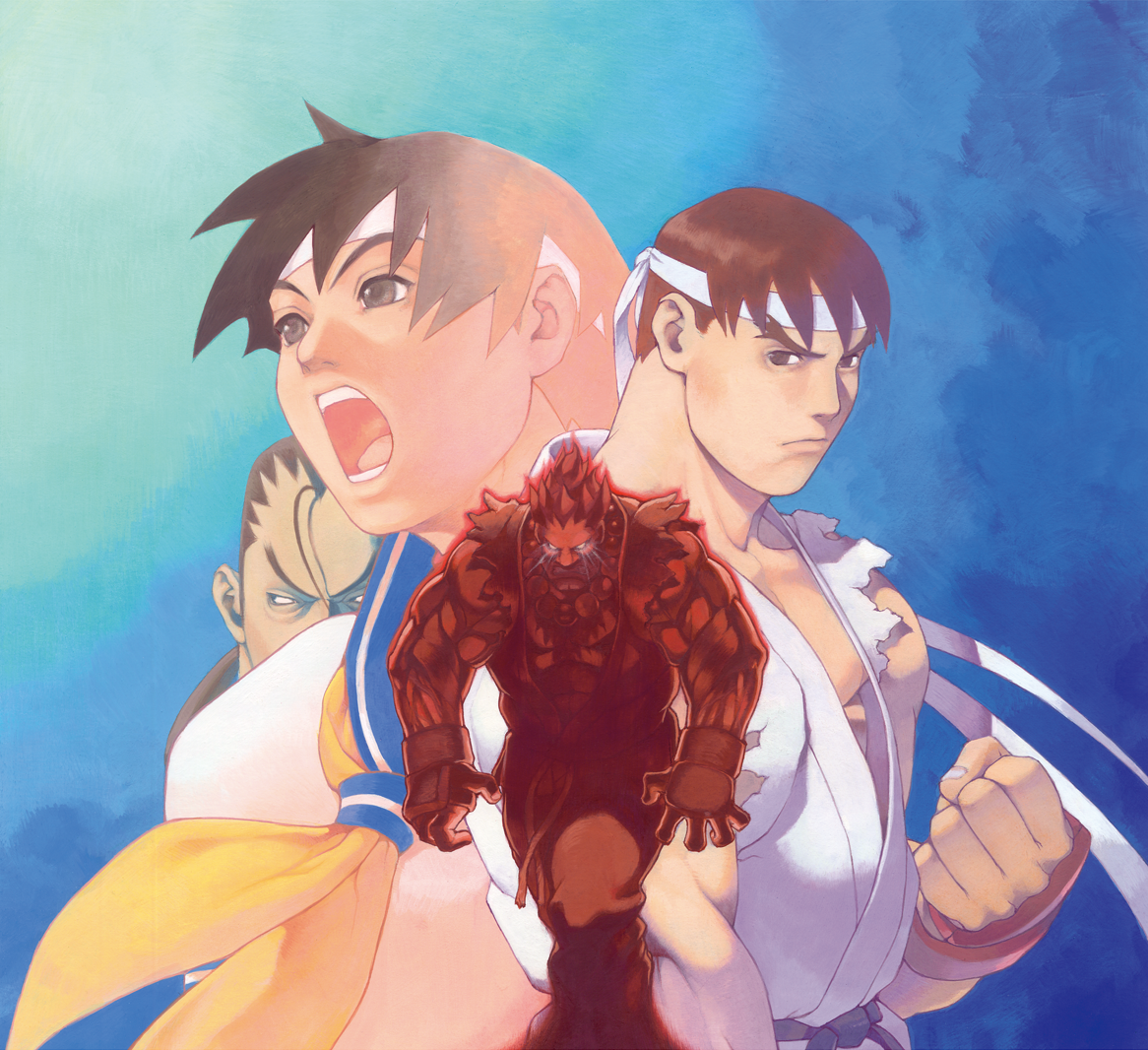 Dai-Chan (also spelled Daichan) is a 90's Capcom artist who became well known for his work on: Street Fighter Alpha, Street Fighter Alpha 2, Super SFII Turbo, Darkstalkers 3, Red Earth / Warzard, Resident Evil 2, and Dino Crisis. One of Dai-Chan's most distinguishing features about his artwork is his use of traditional oil painting in many of his works.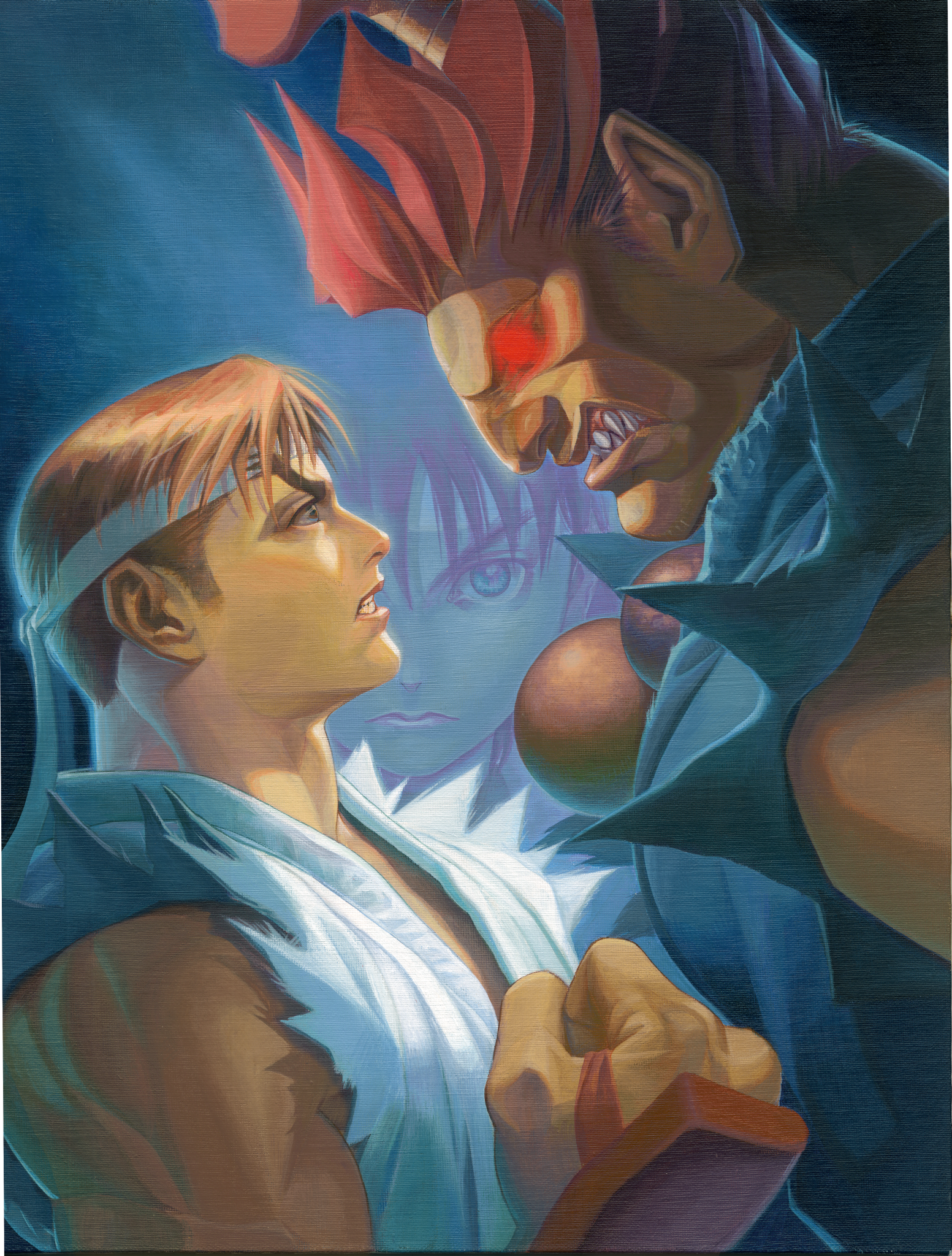 Dai-Chan's "Ryu Versus Akuma" illustration from Street Fighter Alpha 2 is one of his most memorable and impactful fighting game illustrations of all time!







✔ FOLLOW FIGHTERS GENERATION ON: