The Fighters Generation proudly presents "Fighting Game Artist Profiles"... a tribute to the legendary artists who have contributed immeasurably to the success of the fighting genre. In the early 90's (and for many years to come), these artists blurred the line between "video game" and "art". Countless character illustrations, beautiful promotional posters, and artwork filled with heart and expression would define the "image" of the fighting genre... in turn, providing an ever-growing interest, appreciation, and inspiration to fans that love fighting games and their characters.

The artists featured below are credited for creating some of the most inspiring artwork in video game history... (and if you ask me, history itself). On this page, you can learn some interesting facts about some of the most accomplished fighting game artists of all time, and feast your eyes on a small sampling of their work. Also be sure to check back on the page periodically, as it is updated every so often. (Updated: Nov. 26th, 2018)

Kinu Nishimura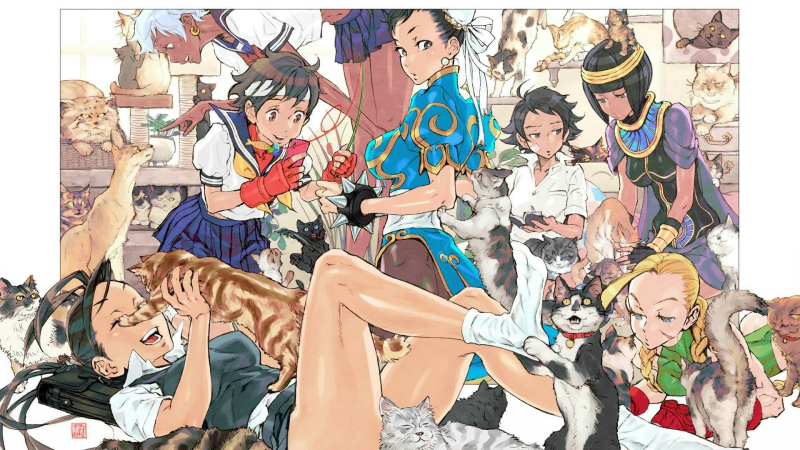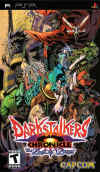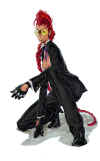 A female artist, Kinu Nishimura became famous for her work on various Capcom series, including: Street Fighter, Cyberbots, the D&D games, Gaia Master, and Cannon Spike. Some of her most iconic Street Fighter artwork include Street Fighter 2 Turbo's "in your face" character artworks, the Street Fighter III portraits with the sketchy lines, and SFIII's stylish win/lose character art. Kinu was also the main Capcom artist for Capcom VS SNK & Capcom VS SNK 2 character portraits.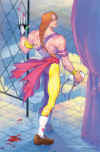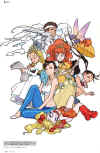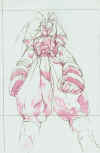 Kinu's gorgeously clean, yet sketchy art style is pretty easy to recognize. She often uses a painted style, as seen in the CVS portraits. The way she draws female faces is one of her art style's most defining qualities. Many Capcom toys and statues were closely based on Kinu's original 2D artwork. There's no doubt Kinu Nishimura is one of the greatest fighting game artists of all time!
Akiman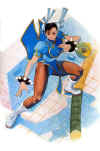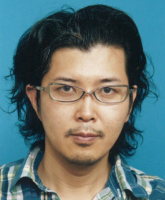 Born July 21, 1964, Akira Yasuda works under the pen name "Akiman" and joined Capcom in 1985. After illustrating characters in 1989's Final Fight, he began working on Street Fighter 2, and soon became one of the most influential fighting game artists ever. Akiman has created iconic character designs & artwork for some of Capcom's most well-known games, including: Street Fighter Alpha, Street Fighter 2, Street Fighter III, Final Fight, Warzard, Star Gladiator, Power Stone and Captain Commando.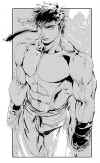 Aside from bringing life to many characters in the fighting genre, Akira was also involved with working on anime such as Gundam and Overman King Gainer. He officially left Capcom in 2003 and started working as a freelance artist. He also appeared in the Initial D live action movie as a Red Suns Member and in Tomie: Rebirth as Waiter. Akiman was also responsible for editing Capcom's Street Fighter Anatomy Reference Guide, which was used to teach other Capcom artists since the mid 1990's. Enjoy a great mini-documentary about Akira Yasuda, below!

Bengus (AKA CRMK)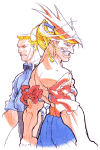 Bengus has been with Capcom since the beginning of the Street Fighter series in 1987. He played a huge part in designing the original Street Fighter cast and Darkstalkers cast. Bengus became known for drawing characters disproportionately with extra large, defined muscles and big hands & feet. However, he can also draw in other, more " realistic" styles.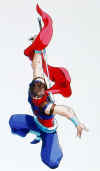 Popular comic book artists such as Joe Maduera, Jeff Matsuda and Humberto Ramos have also borrowed from Bengus' style. Professional illustrators Jason and Heather Martin have stated that Akiman and Bengus are some of their biggest influences. The artists at UDON Comics also model the Street Fighter characters closely to how Bengus drew them in his prime. Bengus is without a doubt a legend and one of the best video game artists of all time. Capcom fighting games simply wouldn't have been such a huge success without the influence of Bengus.
Edayan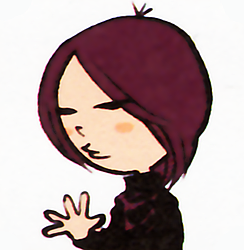 Edayan, known for his spectacular Rival Schools and Street Fighter series character art and posters, is among the most iconic Capcom artists of all time. Edayan amazingly captured Bengus's Street Fighter Alpha art style when he drew character artwork in Street Fighter Alpha 2... so well in fact, that he even confused many fans (including myself) into thinking Bengus did the art! Edayan is one of my personal favorite fighting game artists of all time.








His pen name "Edayan" was a nickname used by his older brother when they were younger. Edayan was hired by Capcom after entering a Darkstalkers drawing contest for Capcom (in the Gamest magazine).



The way Edayan he draws faces and expressions really makes his characters come alive. His characters always seem to be in a "dynamic" pose, even when simply standing upright. He's also a master at making clothing and other minute details stand out. Edayan is a master artist and one of my personal favorites.
Shinkiro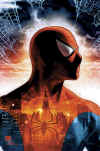 Toshiaki "Shinkiro" Mori was born December 14, 1962. He got his start as an artist for SNK where he provided character designs and many cover illustrations for various Neo Geo games including King of Fighters 94-2000 and the Metal Slug series.

His style was always incredibly unique due to his "realistic" airbrush style of drawing characters. A face drawn by Shinkiro has always been easily recognizable, as he uses the same general format/shape for drawing all male and female characters respectively. He's even improved greatly over the years, and sometimes his artwork looks more like a photograph than an actual drawing.












Shinkiro was laid off in 2000 due to SNK's bankruptcy and was almost immediately thereafter employed by Capcom! (Capcom knows good art when they see it!)

Shinkiro began doing cover artwork for various Capcom games, such as: Dino Stalker, Final Fight One, Resident Evil: Dead Aim, Super Ghouls 'n Ghosts and Dead Rising. Shinkiro still does artwork for Capcom currently. He's also done cover art for American comics such as Spider-Man Unlimited and UDON's Street Fighter comic series.
Daigo Ikeno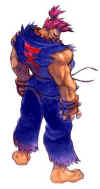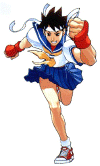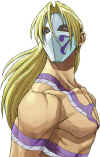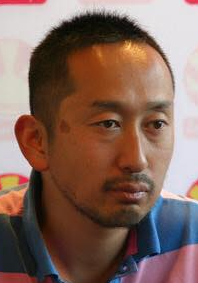 Daigo Ikeno is a well known character designer & illustrator for Capcom Japan. He was born on July 17th, 1973 and has been working for Capcom since April 1994 (to present). Early on, he became known for his work on Street Fighter 2, Street Fighter III: 3rd Strike, Capcom VS SNK 2, Devil May Cry 3, Dead Rising, Onimusha 2. He was also the lead artist for Street Fighter IV and Super Street Fighter IV. He currently resides in Osaka, Japan with his wife and two sons.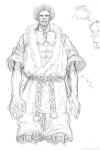 Mick McGinty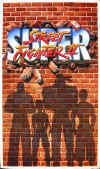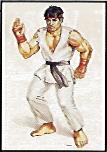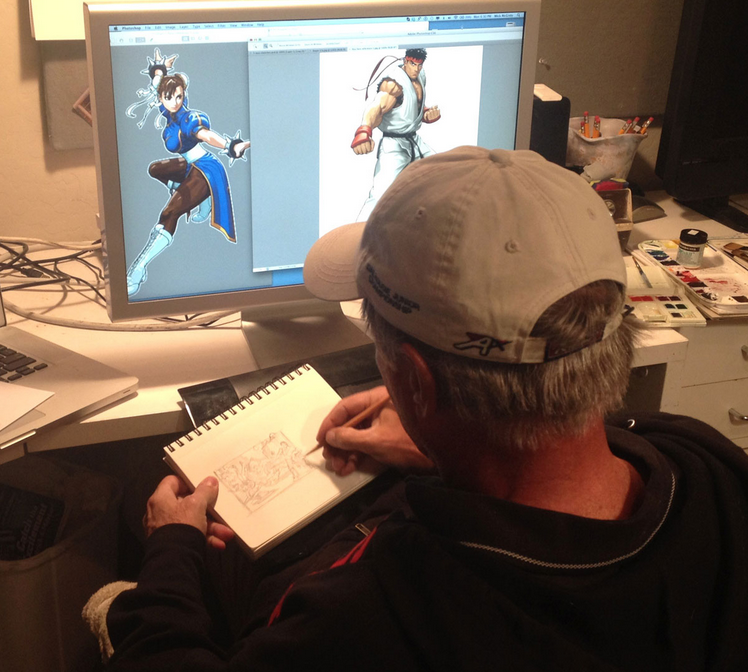 Mick McGinty started as a freelance artist in 1983. He began working on the U.S. cover art for the Street Fighter 2 series by chance. During the release of SF2, Capcom USA's marketing department decided to follow gaming trends by Americanizing SF2's art style. After being given some Polaroid screen grabs of SF2 from his client Denny Moore, Mick began creating the memorable box art for the SNES and Genesis versions of SF2. In Mick's words, "I wasn't a real realistic painter, but I could do this exaggerated realism. I could kind of give an American slant to the characters and the things they were trying to accomplish with that game. Because I think the first thing that they realized was that they weren't going to be able to sell these games very well if they had the original Japanese art — which at the time, I didn't like. Anything I saw, it was just too foreign to me at the time. But now, 20 or 30 years later, I really love their work. It's just nice, edgy, colorful, action-filled — it's just cool stuff. And I think the American buying public, they don't have a problem with it now."
McGinty is perhaps best known for his memorable cover artwork for SF2: World Warriors, SF2: Special Champion Edition & SF2: Turbo.