GENERAL/STORY:
Ryoko has long desire to surpass her grandfather Gengoro, even after becoming the No. 1 in Judo world. And at last, she devised a new super technique "Shin Yamaarashi"! It may be too dangerous to be used in the match, but will be a fatal technique in the Great
Grapple. She is based off of Ryoko Tamura, who is a Japanese 2 or 3 time gold medallist in Judo.
ORIGIN:
Fighter's History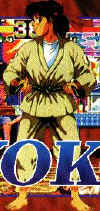 OTHER APPEARANCES:
Fighter's History Dynamite

REVIEW:
Yup, she's a lot like the other Ryoko (and based on the same character)... Comparatively, this Ryoko is a bit more boring.

Fighting Style / Moves
Personality / Charisma
Outfit(s) / Appearance
Effectiveness in series
Overall Score