GENERAL/STORY:
A good old friend of Gouken, he entered the first tournament but was beaten. He went into hiding to improve his training. He also defeated Dan once, so Dan left the dojo.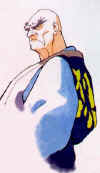 .

ORIGIN:
Street Fighter


OTHER APPEARANCES:
Card Fighters Clash, Card Fighters Clash 2

.

REVIEW:
The original old geezer of Street Fighter hasn't been seen in a fighting game since his debut in the original. Maybe he retired after getting his ass handed to him in the first tournament, or maybe he's just a boring design and Capcom decided to leave him in the past... I mean, even his cards in Card Fighters Clash completely suck.

Fighting Style / Moves
Personality / Charisma
Outfit(s) / Appearance
Effectiveness in series
Overall Score