GENERAL/STORY:
(Malin is a shortform for Magdalena which means "woman from Magdala." Malin (not her true name) is a peculiar character. She approached Hinako and Athena who were looking for a third member. Even though they doubted her abilities, she managed to impress them by stealing their hair ribbons without them noticing. She uses a range of weapons, most of them illegal. Who is she really?
ORIGIN:
King of Fighters 2003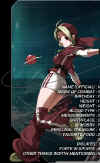 .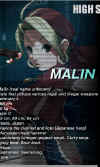 .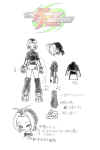 .

OTHER APPEARANCES:
King of Fighters XI, Card Fighters Clash DS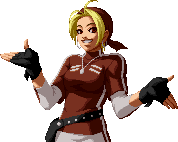 ..

..
REVIEW:
Malin is a small package that comes with a cute & sexy appearances, and a uniquely cool fighting style... Literally, her sprite is rather small (lol). I'm not fond of her default color, kinda bland... Some of her alternate colors suit her much better in my opinion. Fighting with a yo-yo has been done before, but her style stands out as fairly original in the fighting genre; though it makes little sense sometimes. She's still a fun character to use at least, and adds some flair to any KOF team.




.

.

Fighting Style / Moves
Personality / Charisma
Outfit(s) / Appearance
Effectiveness in series
Overall Score
.

.

.
.