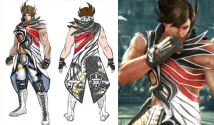 A brand new TEKKEN X New Japan Pro Wrestling collaboration costume has just been revealed. Lars will be getting a new costume in TEKKEN 7 based on NJPW superstar, Hiroshi Tanahashi. Just like King's Kazuchika Okada attire, Lars will get a new Rage Art animation with this outfit equipped. Tanahashi's theme song (Love & Energy) will also play during the match. So far, this costume has only been confirmed for the arcade version... but remain optimistic, as all previous NJPW content and arcade version DLC has come to consoles (and for free, amazingly). Take a look at the promotional images and screenshots for Lars' new costume, below!


And below is the official trailer for this collaboration featuring Hiroshi Tanahashi himself.


Now, all we need is the return of Armor King - with Kenny Omega's attire and his One Winged Angel finisher. It makes perfect sense visually, and Armor King even has a similar throw to Kenny's finisher in his moveset. I'm callin' this one!

(And I do have a good average when it comes to guessing reveals in TEKKEN 7).