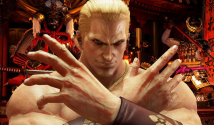 If you still can't believe Geese Howard is actually going to be in TEKKEN 7, take a look at 14 high-res screenshots to help you appreciate the epicness of this crossover. Most of the screenshots star the South Town crime lord himself, 4 of the screens offer a look at Geese's exclusive stage (which has several transitions). Also check out Geese Howard's official TEKKEN 7 character render (below). Scroll further down to see a new video from TekkenChannel with TEKKEN producer Katsuhiro Harada touring SNK Headquarters.


Additionally, a "behind the scenes" edition of the Geese Howard reveal trailer was released on the official Japanese Tekken Youtube channel. The video below shows clips of producer Harada visiting SNK's headquarters.

And in case you missed Geese Howard's TEKKEN 7 reveal trailer (or just want to re-watch it, because why wouldn't you), here it is below.


Geese Howard and his stage will become available in TEKKEN 7 in Winter 2017. Stay tuned on FightersGeneration.com for continued TEKKEN 7 coverage.