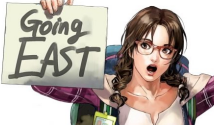 Bandai Namco has released the Version 2.20 update for TEKKEN 7, which includes playable characters Julia Chang & Negan, 4 new stages, new customization items, and gallery illustrations. New Stages include: Jungle Outpost 2, Twilight Conflict 2, Infinite Azure 2, and Last Day on Earth. In addition, the new "Simple Select" feature has been added, which allows you to quickly change your character in VS Battles & Practice Mode. Several character balance changes were also implemented (patch notes coming soon). Finally, during Warm-Up Standby in Online Mode, an ON / OFF function for Rage and Counter Hit was added.

New character panels for Armor King & Craig Marduk (illustrated by artists: Junny, Jbstyle, Hiroaki Kawagoe, Mayumi Kimura, Tadashi Sato & Ami Kawamoto) were also added. Below are some of the new character illustrations available in the game.


Stay tuned on FightersGeneration.com for continued coverage of TEKKEN 7.