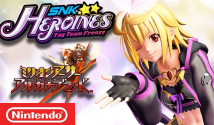 Thief Arthur from Million Arthur (a Squire Enix series that originated as a card battle game) has been announced as an upcoming guest and DLC character in SNK Heroines: Tag Team Frenzy. The announcement was made during Square Enix's recent live stream. Thief Arthur will become available as DLC on September 13th, 2018, one week after the game's release. Check out Thief Arthur's SNK Heroines reveal trailer, below.


Interestingly, this crossover will also carry over into Square Enix's own spin-off fighting game, with Iori Yagami appearing in the arcade 2D sprite-based fighting game: Million Arthur: Arcana Blood. In Square Enix's stream archive below, Iori Yagami appears at around 3:26:49.


Square Enix also announced that Million Arthur: Arcana Blood will be making the jump from arcades to PlayStation 4 in Japan on November 29th.

SNK Heroines: Tag Team Frenzy is scheduled to release on September 7th, 2018 on PlayStation 4 and Nintendo Switch.