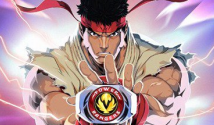 Ryu from Street Fighter has done a lot of things in his 30 year career... but one thing he hasn't done (until now), is become a Power Ranger. Revealed at San Diego Comic-Con 2018, the "Ryu Ranger" is coming soon to the mobile game Power Rangers: Legacy Wars as a playable character. Check out the official tweet (below) from Power Rangers Now, which has a teaser trailer showing gameplay of Ryu Ranger. [UPDATE] Also check out full-size official artwork of Ryu Ranger.


Not only that, but a short live action film by Bat in The Sun titled Power Rangers Legacy Wars: Street Fighter Showdown is coming this Fall. In the film, Jason David Frank will reprise his role as the Green Ranger from Mighty Morphin Power Rangers and will be joined by Ciara Hanna from Power Rangers Megaforce to commemorate the 25th anniversary of the franchise. Below is the official teaser trailer.


You can currently download Power Rangers: Legacy Wars for free from either Google play or the App Store.