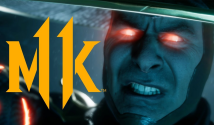 NetherRealm Studios sure had a lot to show at their Mortal Kombat 11 reveal event in Los Angeles today. TFG is here to give you a full recap of everything that was shown, including the first official gameplay trailer for MK11 with footage of Baraka, Sonya Blade (voiced by Ronda Rousey), Sub Zero, Skarlet, and newcomer Geras. While all the details are still coming in, enjoy watching 5 brand new official trailers from NRS. As always with Mortal Kombat content, be warned that these videos are NSFW and contain extreme violence and gore.


Liu Kang and Kung Lao also appear in story mode and have been seen briefly in gameplay, confirming them as playable. Kronika is the name of the bald woman who appears in the story trailers and is said to be the new boss for the game. Character variations (3 per character) return from MKX, and a Customize / Gear system similar to Injustice 2 has also been confirmed.

A beta version of MK11 will be playable on PlayStation 4 and Xbox One starting on March 28th, 2019. However, this will not be an "open" beta and is only available to those who pre-order the game. Playable characters in the beta version have not been announced and NRS didn't mention how long the beta will last.

Custom Character Variations will return from MKX and are said to give you "unprecedented control" to customize the fighters and make them your own. Like in MKX, characters will have visual alterations depending on their specific Variation, along with their own gameplay gimmicks.

Fatal Blow is a new comeback mechanic that becomes available when a character's health is below 30%. Fatal Blow attacks are a cinematic, brutal series of attacks (similar to X-Ray moves) and will take a large chunk of health.

Flawless Block is a new defensive system where a perfectly-timed block will create an opportunity for counter attacks. MK11 features two meters for use with special moves: a horizontal meter for offensive attacks and a vertical meter for defensive maneuvers.

A $99.99 Kollector's Edition was also announced today, which includes the physical copy of the game, steelbook case, a Scorpion mask statue, and the collector's box.


Finally, here's a link to the full stream archive if you'd like the watch the entire presentation as it was streamed live.


Stay tuned on FightersGeneration.com for continued coverage of Mortal Kombat 11.