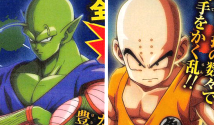 The latest V-Jump magazine confirmed Piccolo and Krillin as playable characters in Dragon Ball FighterZ. Along with showing some early screenshots, V-Jump provided early details on the 2 fan-favorite fighters. Piccolo can stretch his arms to grab opponents, has several guard breaks, fast beams, and can charge up to make them stronger. Krillin deals out low damage and his reach isn't great, but his Kamehameha helps him fight long-range. He also has his Afterimage Technique and Destructo Disc (unblockable).

V-Jump also mentioned that online lobbies will feature chibi versions of characters that players can use to battle one another. Check out the scan from V-Jump Magazine below.


[UPDATE] Take a closer look at the official HD screenshots of Krillin and Piccolo (as seen in V-Jump Magazine), below.


Stay tuned on FightersGeneration.com for full coverage of Dragon Ball FighterZ.