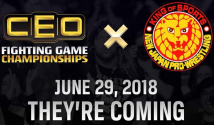 CEO Fighting Game Championships organizer Alex Jebailey and New Japan Pro-Wrestling superstar Kenny Omega announced today that CEO 2018 will be hosting a live NJPW wrestling event on Friday, June 29th (the weekend of CEO '18) at Daytona's Ocean Center. Ticketing will be available in April and CEO '18 registrants will have access to pre-sale & show discounts. The show card and additional details will be revealed at a later date. Kenny Omega confirmed on Twitter that he will be attending the event!


As a competitor at the very first CEO in 2010, I'm ecstatic to see how much the scene has grown and witness such an exciting collaboration! Head over to CEOGaming to register for the tournament, book your hotel, and learn more about the event. CEO 2018 takes place June 29th-July 1st, 2018 at the Ocean Center in Daytona Beach, Florida.

We'll report more details about the CEO x NJPW event when they're announced.