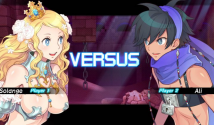 Nicalis announced that Blade Strangers is coming westward on August 28th, 2018 (two days before the Japanese release). The indie crossover 2D fighter will offer a traditional and streamlined 4-button control scheme, aiming to attract both casual and experienced fighting game players. Confirmed modes, include: Story, Arcade, Challenge, Survival, Versus, Online, Tutorial, Training, and more. Nicalis also uploaded a new release date announcement trailer, below.


Here are some new details about the modes of Blade Strangers:

Story Mode – experience each character's unique story
Arcade Mode – pick a character and win matches to advance
Challenge Mode – complete various skill challenges for each of the characters
Survival Mode – battle against a barrage of CPU-controlled opponents
Versus Mode – fight against friends or the CPU (with "standby" option)
Online Modes – create or search for rooms and engage in Stealth, Casual or League matches
Tutorial – for new players to learn the basics
Training – practice moves and combos to hone skills (with "standby" option)
Other Features – online leaderboards, screen view and control customization, player profiles, stat tracking, unlockable items (character colors, portraits, special titles)

Stay tuned on FightersGeneration.com for continued coverage of Blade Strangers.