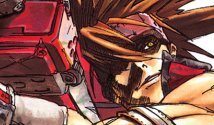 If you applied to participate in the Guilty Gear -STRIVE- closed beta on PlayStation 4, you should've already received a confirmation email by Arc System Works with your voucher code. The download for the beta becomes available on Wednesday, April 15th at 10:00am (PDT), with offline play beginning on Thursday April 16th at 8:00pm (PT). Following that, there will be three online tests throughout the weekend. The full schedule is posted below. Following the beta, Arc System Works will be conducting a survey where beta participants can voice their experiences. [UPDATE] Arc System Works posted starter guides for playable characters.

Guilty Gear -STRIVE- PS4 Closed Beta Schedule

Online Play Schedule (PDT)
4/15 10:00 AM Download Available (start time may vary)
4/16 08:00 PM Server Maintenance (offline play available)
4/17 08:00 PM - 12:59 AM Online Test 1
4/18 12:00 PM - 04:59 PM Online Test 2
4/19 03:00 AM - 07:59 AM Online Test 3

-Regarding Offline Play
You can play offline against the CPU during maintenance.
*You cannot play the game outside of the above times.

*There may be slight changes to the start and end times listed above, so please be aware.
*Yours truly will be participating in the beta, so stay tuned for exclusive TFG videos & content for Guilty Gear -STRIVE and possibly a stream or two!


~TFG Webmaster

Keep it here on Fighters Generation for Guilty Gear -STRIVE- news.