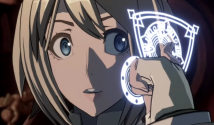 This morning, Arc System Works premiered a new Guilty Gear -STRIVE- Story Mode trailer live on YouTube. (The first trailer for Story Mode was released back in October 2020.) In what looks to be the most ambitious and fleshed out cinematic Story Mode of the series, the latest GGST trailer previews about 2 minutes of cutscenes and reveals the setting will take place in the U.S.A, Washington D.C. being one of the key locations. Several new faces to the series also make their debut in the fully-voiced (in English) cinematic trailer, most likely non-playable characters exclusive to Story Mode, but you never know at this point. Without spoiling anything, the end of the trailer also features a "teaser"... as a familiar male voice is heard speaking. (Veteran fans of the series now might have a pretty good idea who the next Season 1 character might be.) Enjoy the official trailer, below.

Guilty Gear -STRIVE- Storyline Summary

After defeating the threat known as the Universal Will, Sol Badguy enjoyed a brief moment of peace... Until he heard the shocking news. Asuka R. Kreutz, known as "That Man" who left his mark as the worst criminal in all of history by creating Gears and initiating the Crusades, surrendered to the U.S. government.

The man who turned him into a Gear... while Sol now sought revenge on him, he was once a close friend. Trying to guess Asuka's true intentions, Sol stood up with his weapon in hand. ...The time had come at last to settle his fate with Asuka R. Kreutz!

Guilty Gear -STRIVE- releases on PC, PS5 & PS4 on June 11th, 2021.