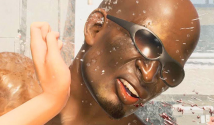 [UPDATE] This was NOT an April Fools article.

That is all. On Twitter, Koei Tecmo announced Dead or Alive 6's patch 1.22 will be the final DLC for the game. Version 1.22 content includes High Society costumes, School Uniforms, and bug fixes. Team Ninja clarified that current features such as online matches, rankings, and the store will remain online, but no further content will be developed for DOA6. In less than a year since the game's launch, DOA6 released a total of four Season Passes. The most recent Season Pass 4 costs a pricey $90 and features new character, Tamaki. It's unknown if Team Ninja will revive DOA6 with something like an "Ultimate" or "Last Round" edition, but relatively poor sales and consistently low player numbers would suggest otherwise. Below are the official tweets from Tecmo Koei.

After a backlash from DOA6 owners, Tecmo Koei recently promised to stop charging real money (Premium Tickets) on "temporary" hair dye for customizing characters. In fact, Tecmo Koei stated on Twitter they will be discontinuing Premium Ticket sets and an upcoming DOA6 patch will address the issue with the unpopular hair color system.

Stay tuned on Fighters Generation for fighting game news.