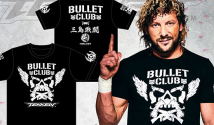 If you remember back in 2009, the TEKKEN team collaborated with the TapouT brand, creating not only in-game TapouT shirts for TEKKEN 6 characters, but actual shirts for fans to buy (which now fetch a pretty high price on Ebay). So far, TEKKEN 7's main collaboration is with New Japan Pro Wrestling, bringing "TEKKEN X Bullet Club" shirts to TEKKEN 7 characters and fans alike. NJPW Champion Kenny Omega (also a big TEKKEN fan) recently modeled some of the new merch.


The Bryan Fury bandana and Bullet Club X TEKKEN t-shirt go on sale in Japan on April 9th. These items will be available from shop.bandainamcoent.co.jp.

Fun Fact: Kenny Omega has worn the Bullet Club X TEKKEN shirt out to the ring.

TEKKEN 7 hits Playstation 4, Xbox One and Steam on June 2nd.