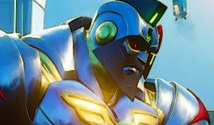 Capcom is continuing their trend of releasing classic / throwback costumes in SFV: Arcade Edition. In Extra Battle mode, a new Mech Zangief costume will soon be unlockable for Zangief; and in Fighting Chance, players can earn a "classic" SF2 look for Vega. For the Mech Zangief costume, players must login weekly starting Sept. 27th to earn all 4 pieces of the costume, costing 2,500 in-game Fight Money with each attempt. Take a look at some official screenshots of the new costumes, below.


You can watch a short trailer for the classic Vega costume on Street Fighter's official Twitter. As it states above, this costume is available to unlock in Fighting Chance until Oct. 22nd, 2018.

Stay tuned on FightersGeneration.com for continued coverage of SFV: Arcade Edition.