POSTED: Sunday, August 5th, 2018 (Aug. 7th, 2018)

Astaroth & Seong Mi-Na Announced for Soul Calibur 6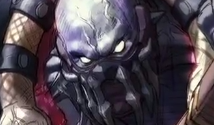 Before the start of the TEKKEN 7 Sunday Top 8 Finals at EVO 2018, Bandai Namco Producer Motohiro Okubo took the stage to announce not one, but TWO new characters for Soul Calibur VI... Astaroth and Seong Mi-Na! The series veterans show their updated movesets and appearances in their official EVO '18 reveal trailers, below. [UPDATE] Character bios, high-quality character artwork by Takuji Kawano, and official screenshots for Astaroth and Seong Mi-Na added to the article!

Character Bio: Astaroth is a golem created by the leader of an evil cult. Imbued with an amazing strength as well as the martial art experience of highly skilled warriors, he is the perfect weapon to serve the cult doctrine of destruction and rebirth. All too aware of his mission, the creature is tirelessly seeking for the cursed sword.

He was granted power during his creation by Ares, the Greek god of war, and the god remains the golem's one true master. Astaroth's fighting style is based on the White Giant that Ares once observed, but the golem doesn't seem to care that his style is a mere copy. All that matters to him is how many people his techniques enable him to kill, and how cruelly he can do it…
Character Bio: Seong Mi-Na is a woman, but first of all she remains a warrior. When her father decided to search for a marriage suitor for her, she decided to run away. In her flight, she took the most precious treasure of the Seong family, the Scarlet Thunder a weapon passed down through countless generations.

As one would expect of the only daughter of the Seong family master, Seong Mi-Na trained fiercely in the art of the longsword and acquired great strength and agility. Despite the weight of her weapon, she wields it with disconcerting ease and grace.

Stay tuned on FightersGeneration.com for full coverage of Soul Calibur VI.

Sources: Bandai Namco, Avoidingthepuddle
Related News: (7-25-2018): Soul Calibur 6 Battle Mechanics Blog with Producer Okubo,
(7-21-2018): Over 12 Mins of Voldo SC6 Gameplay, Character Breakdown,
(7-20-2018): Voldo Announced for Soul Calibur VI,
(7-7-2018): High level Soul Calibur VI Gameplay Roundup,
(7-5-2018): Soul Calibur 6 Talim Reveal Trailer, Artwork, Screens,
(6-23-2018): Nearly 1 hour of New Soul Calibur 6 Gameplay,
(6-13-2018): SC6 "Soul Chronicle" Story Mode Artwork by Hiroaki
Related TFG Links: Soul Calibur 6, TEKKEN 7, Astaroth, Seong Mina

Visit SHOP TFG to check out
awesome and rare fighting
game items for sale on FightersGeneration.com!

*NEW ITEMS ADDED*
SEPT. 14th, 2018!

✔ FOLLOW FIGHTERSGEN ON:





.