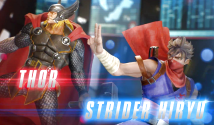 After being silent for the past few months, Capcom finally dropped some fresh news on Marvel VS Capcom: Infinite! For starters, check out a new cinematic story trailer and over 25 new images. Also, a total of 9 new characters have been confirmed (the leak was real). Capcom also announced the release date - September 19th, 2017 along with different packages they'll be offering, including a collectors edition. First details on DLC and a character pass were also announced today - scroll down after watching the trailer for all the details! [UPDATE #1] In addition to the 5-minute gameplay trailer added to the article (below), Capcom released an official gameplay trailer showcasing some of the latest characters to be confirmed for the title.


The story trailer introduces the main antagonist of MVC: Infinite - Ultron Sigma, a fusion of two of the most menacing mechanoids from the Marvel and Capcom universes.


✔CONFIRMED NEW FIGHTERS: Chun-Li, Strider Hiryu, Chris Redfield, Thor, Hulk, Hawkeye, Rocket Raccoon, Ultron, Sigma (DLC)

Gamespot also put together this 5-minute video revealing new details about the game's mechanics.


✔NEW DETAILS: Marvel VS Capcom: Infinite will return to a 4-button attack format similar to MVC2. The buttons include Light Punch, Light Kick, Heavy Punch, Heavy Kick, Tag, and Infinity Stone. A new "Counter Switch" feature will allow you to break out of combos.

Capcom provided details on the different "editions" of the game they'll be offering.

The Standard Edition will cost $59.99 and players who pre-order will get some character DLC costumes - Evil Ryu and Warrior Thor.

The Deluxe Edition costs $89.99 and will come with 2 additional DLC costumes for Hulk and Megaman. The Deluxe Edition will also include the 2017 Character Pass which will feature 6 post-launch DLC characters - the first one being Sigma.

Finally, the Collector's Edition will retail for $199.99 and will include the Deluxe version of the game, plus 4 interlinking dioramas featuring Chun-Li, Megaman, Captain Marvel, and Iron Man made by Tri-Force. The Collector's package also comes with LED-powered Infinity Stones.


Marvel VS Capcom: Infinite comes to PS4, Xbox One and PC on September 19th, 2017. Stay tuned on FightersGeneration.com for full Marvel VS Capcom: Infinite coverage!