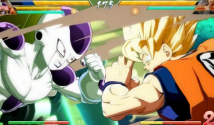 The Dragon Ball series has seen its fair share of fighting game iterations... although, very few were ever fundamentally competitive or technically comparable to traditional fighting games. That may finally change in 2018 with Arc System Works developing Dragon Ball FighterZ, a 2.5D fighting game with 3-on-3 battles, and graphics comparable to the Guilty Gear Xrd series. [UPDATE #1] The first official trailer was revealed at Xbox's E3 conference. Dragon Ball FighterZ will be making its way to PS4, Xbox One, and Steam in Early 2018. A closed beta is also planned for Summer 2017 on PS4 and XB1.


[UPDATE #2] The early gameplay footage (above) confirms 3-Vs-3 Tag Battles, Assist Attacks, a super gauge with over 5 bars of meter, stage transitions, damage to backgrounds, character transformations, and more. Even if you're not a huge fan of the source material, the first gameplay footage of Dragon Ball FighterZ looks very promising for 2D fighting game fans.

Publisher Bandai stated in their press release that the game will feature "ultra high speed battles" along with "dramatic camera angles and character expressions" that you wouldn't normally expect from a 2D fighter. Check out the first promotional screenshots, below.


Confirmed playable characters so far, include: Goku, Gohan, Vegeta, Freeza, Cell, and Maijin Buu. The gameplay and HUD layout definitely resembles that of Capcom's Marvel VS Capcom series (back when it was good). Indeed, Dragon Ball FighterZ looks amazing, and if it plays as amazing as it looks... DBZ fans and fighting game fans alike may be in for a real treat.

Check out the official logo, below.


It looks like Arc System Works has done the unthinkable by finally creating a competitively sound Dragon Ball 2D fighting game. And yes, TFG will be creating a game profile and character profiles for Dragon Ball FighterZ.
Stay tuned on FightersGeneration.com for further details and announcements concerning Dragon Ball FighterZ.