GENERAL/STORY:
With the fame won the pervious battle, he has been participating in parties in political and financial worlds, devoting himself to his business. But his fading pride was awakened by his wife's remarks. "You are a man to devote your life to fight, I know."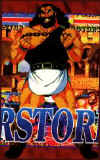 .

ORIGIN:
Fighters History
OTHER APPEARANCES:
Fighters History Dynamite
REVIEW:
Is he a caveman? In a skirt? Is this some sort of Geico commercial? Either way... I'm pretty sure this is a FAIL.

Fighting Style / Moves
Personality / Charisma
Outfit(s) / Appearance
Effectiveness in series
Overall Score

Not Yet Rated