GENERAL/STORY:
A murderer who lives in the forest of Riten-Kyo, he continues to slaughter people in the city every night. He shows an abnormal tenacity towards beauty.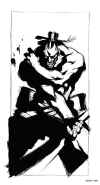 ORIGIN:
Samurai Shodown: Warrior's Rage

OTHER APPEARANCES:
---

REVIEW:
Mugenji has a convincingly badass persona & appearance, and some totally badass moves as well. Definitely one of the most badass characters from Warriors Rage. But umm... Yeah, you shouldn't murder people Mugenji. That's not very nice.

Fighting Style / Moves
Personality / Charisma
Outfit(s) / Appearance
Effectiveness in series
Overall Score