GENERAL/STORY:
He is a fanatic of retro fashion and disco music... He aspires to become a legend just like his childhood heroes from martial arts movies... He created his own fighting style entitled "Kung Fu-nky"... He is also aspiring to be a great actor, and he needs a good story for a movie... Hence, he joins the ROTD tournament... His friend Kang, a wrestler, is also interested in the movie making business, so they decide to meet up in America for the project.
ORIGIN:
Rage of the Dragons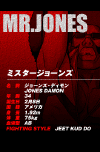 .

.

.

OTHER APPEARANCES:
Power Instinct Matrimilee

REVIEW:
Some might say he closely resembles Tiger, but what fighting game can't do without an afro who's stuck in the 70's? If you've ever seen the classic Bruce Lee movie the "Game of Death," you'll know where his outfit was inspired from. As cool as he looks, his fighting style is on the "average" side though.

Fighting Style / Moves
Personality / Charisma
Outfit(s) / Appearance
Effectiveness in series
Overall Score