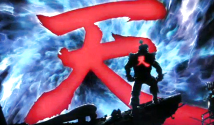 After an exciting Grand Finals between KNEE & Nobi at The King of Iron Fist Tournament 2015 in Tokyo Japan, TEKKEN producer Katsuhiro Harada announced TEKKEN 7: Fated Retribution, the much-speculated (and now highly anticipated) major update to TEKKEN 7 arcade! It was also revealed that the "mysterious silhouette" seen in the dojo with Kazumi during the TEKKEN 7 intro is not Heihachi (as many assumed), but... Akuma. Yes, Akuma from Street Fighter.


Not only will Akuma be playable, but he will have a key role in TEKKEN 7's storyline. Turns out, Kazumi was talking to Akuma in the original TEKKEN 7 trailers & intro... all this time. The new trailer shows that Akuma promised Kazumi that he would kill Heihachi and Kazuya if she dies. (Yeah, this is real life). Amazing. Hype.

We'll learn further details about the storyline later on. [UPDATE #1] Key artwork, Akuma render and screens added! New screenshots confirm brand new default costumes and fight intro animations for several returning veterans!


[UPDATE #2] Check out 25+ additional screenshots here! Higher quality versions of past screenshots also added & updated!

Confirmed so far in TEKKEN 7 Fated Retribution: Updated graphics, new characters, brand new default costumes for the old cast, new stages, new intro poses, and of course... freakin' Akuma. Now the question is: Will Akuma be the only Street Fighter character to appear in T7? Common sense would say no.

✔ Webmaster Comment: I said it earlier this year... "What if TEKKEN 7 is actually TEKKEN X SF?"

My early prediction is that TEKKEN 7: FR will feature more than one Street Fighter character. However, the actual "TEKKEN X Street Fighter" project will be a sequel or update to T7FR. This is just a simple guess, without anything to really base it on (and also what I hope will happen).

The fact that Akuma still fights in a "2D" fashion in the TEKKEN 7 engine is an amazing feat... and I seriously can't wait to see more of how he plays. (On that note, don't you think Bandai Namco might utilize that special "character playstyle" by adding some more Street Fighter characters?).

We've already seen Namco's early development of Chun-Li, so she might be in. It's hard to imagine Ryu won't appear as well.

Take it all in guys & gals... We're experiencing some amazing fighting game history.

So I wonder what debt Akuma has to Kazumi. My prediction: It involves another Street Fighter character. . . . possibly Ryu (or Evil Ryu)? Hmmm.