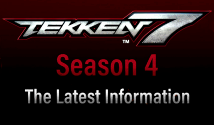 On Twitter, TEKKEN series producer Katsuhiro Harada confirmed that Bandai Namco will be revealing new information and details about TEKKEN 7 Season 4 during the Tokyo Game Show 2020. Harada-san and Michael Murray will be appearing on the official TEKKEN Twitch stream to make the announcement this Saturday (September 26th) at 6:00PM PT. The TEKKEN 7 Online Challenge US East Open Tournament is also taking place this Saturday. [UPDATE] Kunimitsu was revealed for TEKKEN 7 Season 4. *See TFG's new article for the latest!

To recap what has been announced for TEKKEN 7 Season 4 so far, you can rewatch the official reveal trailer below.


Stay tuned on Fighters Generation for TEKKEN 7 news & content!