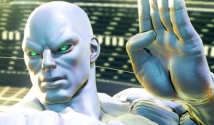 Capcom released a full 15-minute video preview of Street Fighter V: Champion Edition's Seth, showing off much more of the returning SFIV boss's moveset. Capcom's Matthew Edwards (The Street Writer) and Kim1234 provide their commentary throughout the Seth moveset preview video, explaining more about Seth's all new incarnation in SFV. Seth joins SFV: Champion Edition just two weeks from now on February 14th, 2020.


In addition, here are the official videos for Seth's Tanden Engine Showcase 4 & 5. This time, Seth installs and utilizes moves from Birdie, Karin, Zangief, Balrog, Blanka, F.A.N.G, Cody, and Poison.


Keep it here on Fighters Generation for Street Fighter news.