Thursday, November 12th, 2020

Guilty Gear -STRIVE- Developer's Backyard #4, New Details on Giovanna & Nagoriyuki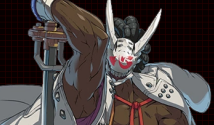 Arc System Works released their latest behind-the-scenes dev-blog. The fourth volume of the Developer's Backyard updates fans on the latest happenings with Guilty Gear -STRIVE- and reveals brand new details on 2 of the game's newcomers: Giovanna and Nagoriyuki. Katano from the Arc System Works development team talks more about not only each character's backstory but their in-game abilities as well. You might just be able to decide on a future main based on the new details provided — if you're not already completely sold on their stunning character designs (which is highly likely).

Finally, the end of the blog features a Q & A section answering fans questions about Online mode, Ranked, Lobbies, and Crossplay.

In related news, it's been confirmed that the PlayStation 5 version will feature an exclusive Multi-player battle mode (with either a Tag or Assist feature)
—
although the exact mechanics are not yet determined. Click here for more details on the PS5 mode.
Guilty Gear -STRIVE- will release on PS5, PS4, and Steam in April 2021.
Sources: Arc System Works
RELATED NEWS | OCTOBER 2020
Guilty Gear -STRIVE- Deluxe & Ultimate Edition Details, Season Pass, Release Date

As we reported yesterday, Guilty Gear -STRIVE- will release worldwide in April 2021 on PS5, PS4, and PC via Steam. Those who pick up either the Deluxe or Ultimate edition will gain "early access" to the game on April 6th. The Standard edition of the game will release worldwide 3 days later on April 9th. Inside, take a look at the contents of each version of the game and full details on Season Pass 1.

Related News: (10-28-2020): PlayStation 5 version of GGST Exclusive Multiplayer Mode,
(10-27-2020): Guilty Gear -STRIVE- Story Mode Trailer,
(10-16-2020: GGXX Accent Core +R Rollback Netcode Open Beta,
(10-15-2020): Guilty Gear STRIVE Online Lobby System / Avatars,
(10-11-2020): Giovanna Revealed for Guilty Gear -STRIVE-,
(10-9-2020): Arc System Works ARCREVO 2020 Online Event,
(9-30-2020): Guilty Gear x KOF is Happening in KOF '98 UM OL
Related TFG Links: Guilty Gear -STRIVE- | TFG NEWS

✔ FOLLOW FIGHTERSGEN ON: