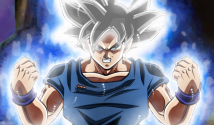 A scan from V-Jump magazine confirms Ultra Instinct Goku is the next DLC character coming to Dragon Ball FighterZ. While a "Season 3" of DBFZ hasn't been officially announced by Arc System Works (yet), Ultra Instinct Goku might be leading the way as the first new character of an upcoming roster / game update via DLC. The DBFZ World Tour Finals is less than one month away - taking place in Paris, France on February 8th-9th, so we'll find out more soon enough. In case you were wondering, this is the sixth playable form of Goku to appear in Dragon Ball FighterZ.

[UPDATE] Added official character artwork for Ultra Instinct Goku, below.


Keep it here on Fighters Gen for Dragon Ball FighterZ news.